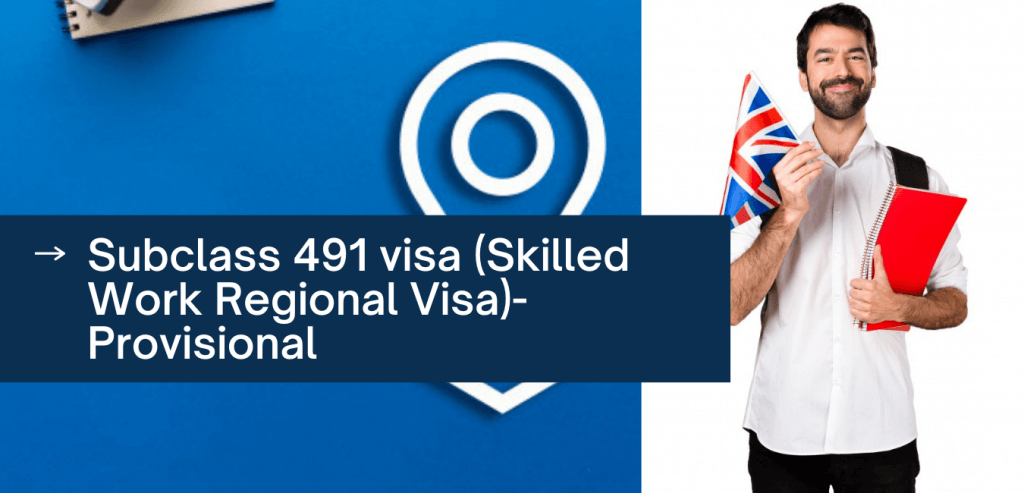 Subclass 491 visa (Skilled Work Regional Visa)- Provisional
The subclass 491 visa is for skilled workers who are nominated by their state, territory government or a family member who can sponsor the applicant to live and work in designated regional areas in Australia. This visa has been replaced by 489 visa.  This is one of the general skilled migration visas linked to subclass 189 and 190.
The subclass 189 is skilled independent and 190 is skilled or state nominated. The subclass 491 visa permits you to stay in Australia for 5 years and can travel overseas many times until the visa is valid.
There are two different streams. They are Family sponsorship & state or territory nomination. The family sponsored visa commands that you have a close family member living in a regional area in Australia and who is determined to sponsor you. This requires you to lodge an expression of interest.  But if you want the state or territory to nominate you for subclass 491, you need to lodge and expression of interest and should have enough points to be picked out.
The second stream which is state nomination visa is easy to achieve however you only need minimum points to get an invitation. Expression of interest needs to be lodged to achieve it. The invitations are directed as soon as the state approves the nomination.
Eligibility and requirement of this visa as follows:
To apply for subclass 491, you need to be invited to apply by the state or territory by submitting an expression of interest in the selected skills list.
To be nominated for this visa you need to have minimum points of 65 or more.
This subclass 491 visa is a points tested visa. If you do not have minimum required points, you will not be selected.
All the applicants need to have suitable skills assessment at the time of the invitation. All the primary applicants need to provide a copy of the skills assessment. The skills assessment is based on the educational qualifications awarded in Australia while you were on a student visa.
All the primary applicants who are applying for subclass 491 needs to be between the age of 18- 45.
The applicant also needs to prove that he has competent English (6 band each of 4 modules)
The applicant should also meet the skill requirements on the occupation list for subclass 491.
The applicant also needs to meet the health and character requirements to be eligible for the subclass 491 visa.
If the main applicant is being sponsored by the family member, the sponsor must be 18+ years old.
He should also be a resident in a regional area and an Australian citizen or a permanent resident or a New Zealand citizen
The person must approve the sponsorship before the visa is granted.
To submit your expression of interest (EOI) you will need a minimum of 65 points. You will receive points for different things like
Age 18-45
Language skills (English level)
Educational qualifications
Australian work experience
Overseas work experience
Many of you might be frequently thinking about the subclass 491 visa, so master migration has gathered bit more extra information to help you reach your goal.
The designated regional areas include anywhere in Australia except Melbourne, Brisbane, and Sydney.
You can apply for permanent residency through subclass 191, to achieve this you need to meet some requirements.
Study, live or work in a regional are for at least 3 years.
Earn a minimum of 53,900 per year for 3 annual years.
The visa processing times for subclass 491 is around 3 to 5 months.
To know more information, book a consultation with Master migration and education to achieve your dream.
We have got a ton of information about various visa options. And if you are still not sure how to proceed or need help with a step-by-step approach, then why not arrange a time with one of our best migration agent.
Please follow the link to reach out.
https://mastermigration.com.au/contact/