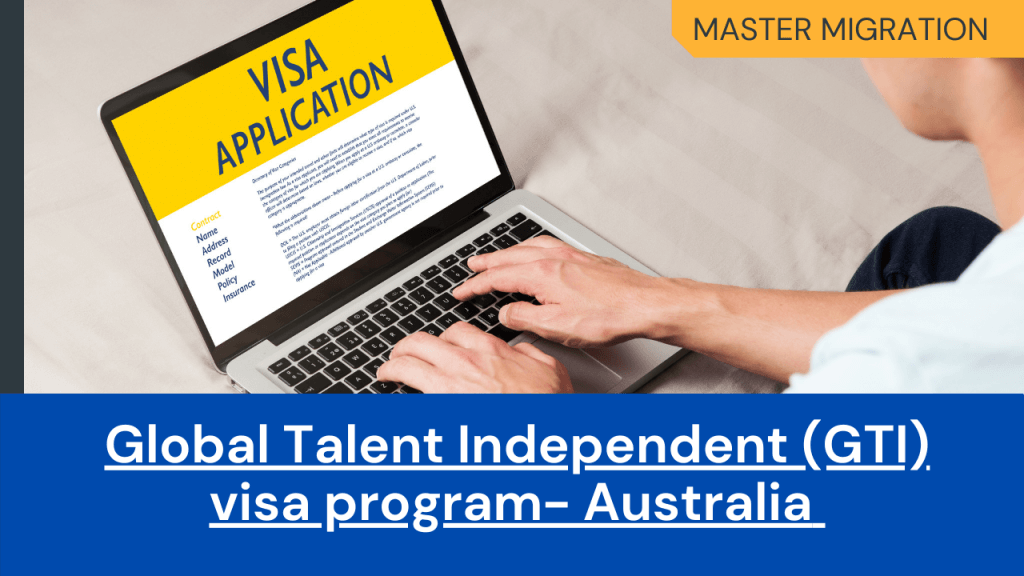 "I loved Australia. I was very successful there." Todd Barry

How about you get the chance to say this sentence once in your life just as Todd Barry once said it? How about you get the chance to enter a country in which you can be successful?

Well, fortunately you can!

Australia is a country located between the Indian Ocean and the Pacific Ocean. It was once a British colony but now is an independent member of the commonwealth. It is well known for giving people opportunities to succeed in education and work.

Let us help you get to Australia and succeed! Your way there is through a visa named Global Talent Independent (GTI) visa program.
Global Talent Independent (GTI) visa program – Australia
Definition:
GTI is a rationalized visa pathway for very skilled experts. It gives them the chance to work and live lastingly and permanently in Australia. GTI is intended to assist in raising Australia's innovation and technological economies. As a result, GTI generates chances and opportunities for Australians through relocation of skills and job opportunities. Statistics have shown that for years 2020 and 2021, there wer 15,000 places offered under GTI.
To be eligible for visa under GTI, an applicant:
Should be very skilled in one of 10 specific sectors: resources, agri-food and AgTech, energy, health businesses, defence, advanced manufacturing and space, circular economy, DigiTech, infrastructure and tourism, financial services and FinTech, or education.
Should verify he/she is globally recognized with proof of outstanding achievements
Should be well known in their area of expertise
Must prove that he/she would be a benefit to Australia in their field
Must have no obstacle getting employment in Australia or becoming recognized in their area of expertise
Should have a well-known organization or person in Australia to propose him/her as global talent, in their same field
Must achieve and demonstrate an exceptional track record of proficient achievement through awards, publications, patents, etc.
MS and PhD candidates may be able to validate their special talent in their specific fields.
Should be capable of attaining a salary equal to or more than the Fair Work high income threshold of AUD153,600. On an annual basis, this income figure is adjusted.
To apply visa under GTI:
Access global talent contact form.
Submit expression of interest.
Wait for reply.
Receive a unique invitation reference identifier and invitation code.
Create Immi Account.
Lodge GTI visa application through the account you created.
So, does the visa under GTI seem the right one for you? If yes, then why wait?
Contact us for any further enquiries
Phone: +61 2 8282 6094
Mobile: +61 470 285 424
WhatsApp: +61 470 285 424
To receive a call back please click the link below and fill out your details, one of our experienced agents will give you a call back. https://mastermigration.com.au/contact/
To receive Updates and immigration alerts please fill your email address and click the subscribe button on the given link.